#BizRAK2019: The Roundtable Holiday Happiness Guide Day 3
#BizRAK2019: The Roundtable Holiday Happiness Guide Day 3
Posted December 18, 2019 in Latest News & Insights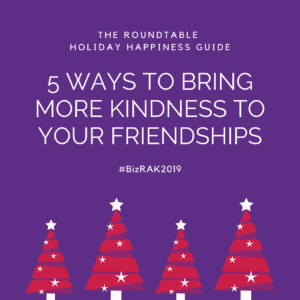 This week, The Roundtable is celebrating the 2019 holiday season by giving back to our amazing community. To show our thanks and spread some cheer, we've put together a Holiday Happiness Guide with tips and tricks to make the most out of the holiday season.
For the past 4 years, we have done a BizRAK campaign in December to encourage people to perform random acts of kindness at work. We are huge fans of Steffi Black and her Random Acts of Kindness Week, so we are bringing BizRAK back with 5 days of #BizRAK2019.
Day 3 is all about kindness in your personal relationships. Here are 5 ways to bring more kindness to your friendships this holiday season:
1.Send a note to appreciate your mentor
Where would we be without the support and guidance of our mentors? Let them know how much you appreciate them with a nice note, card, or gift.
Check out yesterday's post for some card and gift ideas.
2. Send a note to appreciate your mentee
If you're a mentor to someone, you need to know that a nice note from you to your mentee could mean the world! A card from you could be the most encouraging thing they receive this holiday season. Make your mentee's day by letting them know what a great job they're doing.
3. Send a note to appreciate your supplier
We've all got those rock-star vendors, suppliers, and clients that make doing business with them so easy and enjoyable. Let them know how much you appreciate working with them, and how much you'd love to continue the relationship in 2020.
4. Offer advice to someone in need
Gifts and treats aren't the only things you can share with the people you care about during the holidays. Sometimes sharing knowledge can be a gift as well. Offer advice to someone who needs it, and watch them take it and run with it. Watch them use that knowledge to grow their greatness!
5. Make a connection
This year, if you can, give the gift of connection. Setting someone up with a resource could be all they need to reach the next level of their goals. So, help someone achieve their dreams by introducing them to someone who can help.
Let us know which one of these RAKs you'll be doing, and check back in tomorrow for another Holiday Happiness Guide!
Tags: BizRAK, Holiday Happiness, Kindness at work