#BizRAK2019: The Roundtable Holiday Happiness Guide Day 2
#BizRAK2019: The Roundtable Holiday Happiness Guide Day 2
Posted December 17, 2019 in Latest News & Insights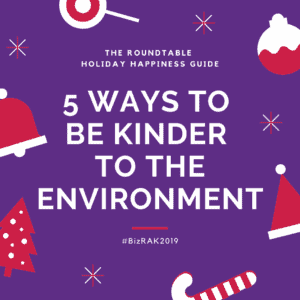 This week, The Roundtable is celebrating the 2019 holiday season by giving back to our amazing community. To show our thanks and spread some cheer, we've put together a Holiday Happiness Guide with tips and tricks to make the most out of the holiday season.
For the past 4 years, we have done a BizRAK campaign in December to encourage people to perform random acts of kindness at work. We are huge fans of Steffi Black and her Random Acts of Kindness Week, so we are bringing BizRAK back with 5 days of #BizRAK2019.
Day 2 is all about kindness towards the environment. Here are 5 ways to be kinder to the environment this holiday season:
1.Gift experiences, not things
One way to ensure you're not creating more clutter in the world is to gift experiences such as these. This way you reduce the amount of STUFF in your home but still create great memories with your friends and family.
2. Alternative Gift Wrapping
Wrapping gifts can create a lot of waste, so why not try these alternative methods. Our particular favourite is wrapping gifts in scarves!
3. Give cards a new life #literally
If you've got lots of old paper around, don't chuck them in the recycle bin just yet. Use them to make plater-cards! This is a double-win: Your plantable card can live forever, and you won't need to waste money on buying new cards!
4. Try eco-friendly gifts & decorations
Why buy gifts when you can MAKE gifts? Check out these great DIY gift and decoration ideas.
5. Give some love to the environment
If you don't have time to make your own gifts, decorations, or cards, but still want to be good to the environment this year, here's our simple solution: Give some love to the environment by donating to charities that fight the good fight.
Your donations go a long way in the fight for a better future for all of us.
Let us know which one of these RAKs you'll be doing, and check back in tomorrow for another Holiday Happiness Guide!
Tags: BizRAK, Holiday Happiness, Kindness at work