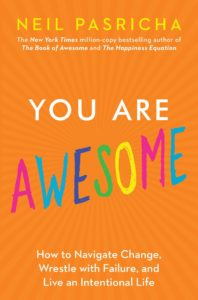 By: Neil Pasricha
Reviewed by: Susan MacKenzie
The Premise:
This is a book about resilience. I read "You are Awesome" for the first time sitting on a tropical beach. Shortly after, our world shifted personally and professionally. I then picked up the book 10 weeks into socially distancing. I couldn't have imagined while on the beach, all the changes and reasons that would test anyone's resilience. It turns out, whether pre-pandemic or right in the middle of it, "You are Awesome" remained  relevant and relatable.
The strength of this book lies in Neil Pasricha's storytelling and his ability to simplify and connect the steps to build and maintain resilience. He uses personal stories from his life growing up with immigrant parents in the Greater Toronto Area, his own career highs and lows as well as current leadership authors and historical references.  He refers to the 9 steps as 'directional arrows', themes to self-reflect on when your resilience is sorely tested.  Each of the 9 steps is illustrated with several stories often vulnerable personal incidents that bring the steps to life.
The Bottom-line:
Self-reflection is challenging when you are in the thick of things that are hammering away at your own resilience.  Key themes we've heard from our leaders through these past months ranges from the worry of whether they will still have a job or a company to report to, what will work look like in the future, when are my kids going back to school or daycare, just to name a few. For high performers, the bar of what success is moving… and not in a predictable way.  "You are Awesome", looks at our tendency to 'catastrophize' even when absolutely no one can predict what we will be keeping or losing forever. The lessons in "You are Awesome" remind us that the future isn't written… yet. Even if you are not achieving the same results (or epically failing), there is learning in everything and those hard lessons build you (and your resilience) for future wins. The value in this book is it's step by step self-reflection to use when you feel your resilience is down. The strategy is to pull you away from that whirlpool and look at how your perceptions, mind-set can drag down your resilience but also how to use the very same to build yourself back up.  Staying resilient is seldom a one-solution scenario. "You are Awesome", takes a holistic approach which readers can explore and apply to their own situation.
Recommendation:
The value of "You are Awesome" for myself, is that it made me reflect on my own experiences that built resilience as I read through each step. I now have further stories to share with my own team and clients. I was able to find common ground in each of the steps and I could easily find where I was getting stuck. If you are a regular reader of Brene Brown, Seth Rogen or Carol S. Dweck, this book will be a refresher.  However, it does put resilience into a digestible, enjoyable and practical 'how-to' guide for yourself or your team – whether you are on the beach or in the middle of the pandemic.