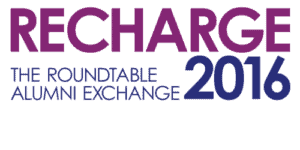 On November 4, a group of Roundtable alumni shut off their cell phones, left work behind (sort-of) and joined their peers for a day of leadership learning, idea exchange and inspiration at our annual leadership 'unconference' Roundtable Recharge 2016. The day was filled with great conversations, laughter and even a few tears. Here are some of my own personal highlights:
From Ryan Michel, CEO of Allstate… I was reinforced in my own belief that great careers don't coming from focusing on the destination but rather by paying attention to the journey. Ryan shared how being an avid learner, open to feedback and relentlessly curious has led him to the top job in Canada at Allstate. We all loved his candour and perspective on what life has been like in his first year as CEO. Lots of lessons learned, opportunities realized and a compelling vision for the future.
From our panel on the New World of Work, we busted the myth of 'worklife balance'. Panelists Greg Bandler, Amy Laski and Julie Strofolino all shared the importance of aligning your work to your values and that there really is no 'one size fits all' when it comes to work-life integration. You have to do what's right for you. We also learned that most pressure is internal.
My friend Pam Laycock shared with us her 'B-10' approach to leadership starting with Be Happy. It caused me to think about my own list of what I want to 'be' as a leader. Be real, be kind, be generous, be fearless, be calm are a few of mine these days. What about you?
Then, my fabulous colleague Janey led the group through a preview of our new 'Art of Mindful Leadership' program that's launching in January. Some amazing connections were made in a very short amount of time. With stress and mental health issues on the rise, we are passionate about helping our members build the mental muscles they need to be resilient.
And for happy hour, we wrapped the day with the ever entertaining Steve Abrams who shared with the group the highs and lows of entrepreneurship as Co-Founder of Mill Street Brewery. So many great lessons learned and a great 'behind the scenes' view of one of Canada's greatest success stories. I really took away from Steve the idea of the importance of partnership. How many of us have to get our work done through peers on a day-to-day basis and yet spend very limited time getting to know these peers beyond the transactional work requests that we make? What would our results be like if we put more of an emphasis on the nature of our work relationship?
As always, there was so much more. Thanks to everyone who made it just another amazing day. Check out our event website for pictures, takeaways and our 2017 date. You can also visit our Facebook page to see some live 'tweets' from the day.
Happy leading!