#leadershiptruth – Don't hitch your career to a shiny star.
#leadershiptruth – Don't hitch your career to a shiny star.
Posted March 27, 2018 in Latest News & Insights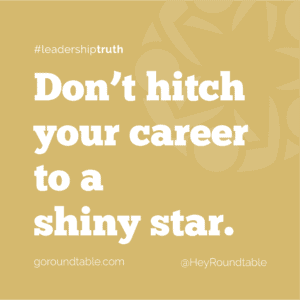 I once had a boss who held himself in very high regard. One day he said to me 'don't hitch your star to my wagon.' (For the record, the thought had never actually crossed my mind.) When he left the organization, I found myself having to restart my reputation with a new boss and I suddenly understood what my old boss was talking about. It's not easy transitioning when you were the previous leader's 'favourite.' Any incoming leader may question whether or not you'll be loyal to them and, if, they didn't like the old guy, they may not like you by default. I watched one of my coaching clients hitch his star very firmly to his CEO's wagon. Because their relationship was so tight, he got away with lots of bad behaviour on the job. In particular, he was confrontational with his peers and was protected by the CEO because they were buddies. When the CEO left, that senior guy's career was torpedoed. His peers couldn't throw him under the bus fast enough. It's great to be on good terms with your boss, but be sure to stand on your own merit too. Nobody likes a stuck-up suck up.
#leadershiptruth
Tags: Communication, Engagement, high performers, leadership lessons, leadershiptruth