It's Time for an Energy Shift – Will You Join Us?
It's Time for an Energy Shift – Will You Join Us?
Posted November 30, 2016 in Latest News & Insights, Leadership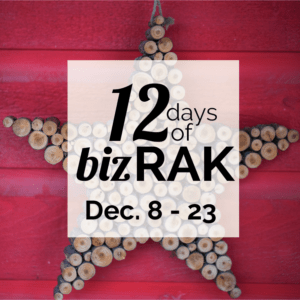 Well, it's been a heck of a fall. With horrific acts in Syria, horrific treatment of protesters, horrific shootings of innocents and incredibly horrific election results, at The Roundtable, we've been feeling the need to drive a positive energy shift.
Last year, we launched a little campaign in the lead up to the holiday season called the '12 days of bizRAK' (Business Random Acts of Kindness) – #12DaysBizRAK.  This year, more than ever, we feel like the world needs more kindness. With so much uncertainty, it's easy to become overwhelmed with fear and sadness. We truly believe that small acts of kindness can create big ripples, and we invite you to join in, so that together we can make a difference. We've partnered up with our friend Steffi Black, Spread the Kindness Coach to help bring some positive energy into our work places.
Participating is easy. Simply sign up below, follow along from December 8th through to December 23rd as we issue a simple prompt for daily Business Random Acts of Kindness (or choose your own), then share your results on Instagram, Twitter or Facebook with the hashtag #12DaysBizRAK.
Together, I really believe that we can get some positive energy flowing. I hope you'll join us as we spread some kindness and make the world just a little bit better for everyone.
Tags: #12DaysBizRAK, Kindness at work, Random Acts of Kindness