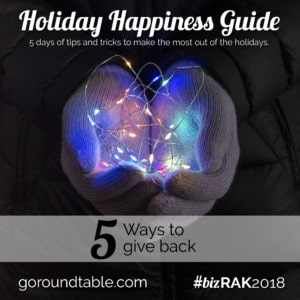 This week, The Roundtable is celebrating 10 years in business by giving back to our amazing community. To show our thanks and spread some cheer, we've put together a Holiday Happiness Guide with tips and tricks to make the most out of the holiday season.
It wouldn't be in keeping with the holiday spirit if we didn't take some time to talk about giving to those less fortunate. Holidays can be a very difficult time for people without a stable income or residence. Whether you are volunteering your time or making a donation, there's a lot you can do to improve lives.
Check back tomorrow for our fifth and final installation of the Holiday Happiness Guide!