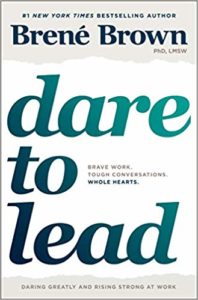 by Brené Brown
Reviewed by: Glain Roberts-McCabe
The Premise: Dare to Lead takes lessons from Brené Brown's earlier offerings (The Gifts of Imperfection, Braving the Wilderness, Rising Strong) and packages them up into lessons for corporate leadership. The book is organized into four main parts: Rumbling with Vulnerability, Living into our Values, Braving Trust and Learning to Rise. Brown focuses most of her efforts in the first section of the book exploring subjects like shame, empathy, courage and confidence as a foundation for the remaining chapters. Written in Brown's hallmark straight shooting, no BS down-home Texas style, Dare to Lead is peppered with stories and highlights from her recent transition from academic researcher to CEO of her burgeoning leadership consultancy. Brown's aim is to bring more wholehearted leadership to organizations and drive the shift from a fear-based approach to an inclusive and collaborative one between leaders and those who follow them.
The Bottom Line: I'm a huge Brené Brown fan. I've probably recommended the book 'The Gifts of Imperfection' to thousands of people. I snagged a copy of Dare to Lead the day it hit the bookshelf and consumed it on a flight to Toronto from Victoria. The key concepts in this offering are not new to anybody who's read any of her previous books. In fact, if you are an ardent fan, you may feel like it's a bit of repackaging of her key concepts – authenticity, shame, vulnerability, empathy, compassion, boundaries – for a corporate reader. Although I took away a few nuggets, this book felt a little 'thin' in comparison to her other best sellers. My favourite part of the book was her deep dive into empathy and the exploration of how it differs from sympathy and really got me thinking about what we (at The Roundtable) can do to cultivate this idea more deeply in our programs. I also personally loved her acknowledgement that 'researching leadership is much easier than actually leading'. My personal pet peeve with many academics that write about leadership is that they don't actually engage in the practice of leadership. For me, this always mutes their voice. It was refreshing to read some of Brown's own struggles with being an 'in the trenches' leader as she grows her consultancy. Overall, this is an easy read with some great key concepts for anyone looking to bring a more whole-hearted approach to their leadership practice.
Roundtable Recommendation: Overall, this book is a good intro for any corporate leader who is interested in Brown's philosophy and approach. For a deeper dive into the concepts, I would recommend going back into her earlier catalogue.
Tags: book review, Career Management, career satisfaction, leadership, Motivation, performance